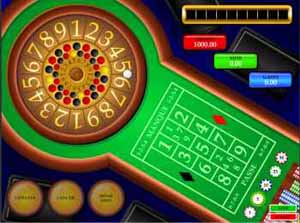 The ball is one of the most played casino games. This is probably due to the fact that access is completely free for all adults and rates are available at all considering the low price is applied. Here we will give you information on the best way to play this game
The goal
The aim of the game is to bet on a number where the ball is supposed to arise after the dealer has turned the cylindrical plate. The minimum and maximum bets are posted on the table.
The player can bet on solid numbers and on simple chances. Tokens are available at checkout. Updates to horse and ads are not allowed.
Bets on a single number
If you bet on a full or numbers, that is to say, the numbers 1 through 9, and the numbers you have chosen are winners, you will earn seven (7) times your bet in addition to your original bet.
Updates on a single opportunity
A bet on a single opportunity is to build on a peer, odd, one black, one red, a lack or password. In addition, it allows you, if it wins, to get your bet, plus your bet. But a winning number 5 makes you lose all other simple chances.
The chances are pairs: 2 4 6 8.
Odd chances are: 1 3 7 9
Black chances are 1 3 6 8
Red chances are: 2 4 7 9
Chances are missing: 1 2 3 4
Chances are Passe 6 7 8 9.
How to play ball?
To play ball, you must click "Start." If you want to cancel your bet, click 'Cancel'. Otherwise, the croupier announces the winning number once the ball will stop permanently.
When the dealer announces "Place your bets", all players can start betting. Each player places his own on the table, and that, until the croupier announces "No more bets." Once the ball stops on a number, the croupier announces the winning number. In case you bet on the right number, you must immediately notify the dealer so that he could make the payment. It will also remove the table all losing before the payment made.
If you bet on equalities and you won, you will be paid once the application over the original bet. If you bet on the other numbers and you win, your winnings will be seven times the bet plus your original bet. The number 5 is paid as other numbers except if it comes, all other bets on simple chances are worthless.
Table ball
As in every game in the casinos, the ball is played on a table. This latter comprises a fixed plate which comprises a cylindrical, two or three rings of nine (9) each number, ranging from 1 to 9. She may also have one, two or three play mats around which the players may be grouped.
When you play ball, you have to be very careful. We must monitor his chips because it is possible that other unscrupulous people to withdraw from the table just to hurt you and to give more chance to win.
As in all casinos, only adults over the age of 18 years are permitted to enter, without having to pay anything. Moreover, costs are made accessible to everyone, even for small grants, so everyone can participate in the game, provided they are major.